Welcome to the Hervey Bay Sailing Club.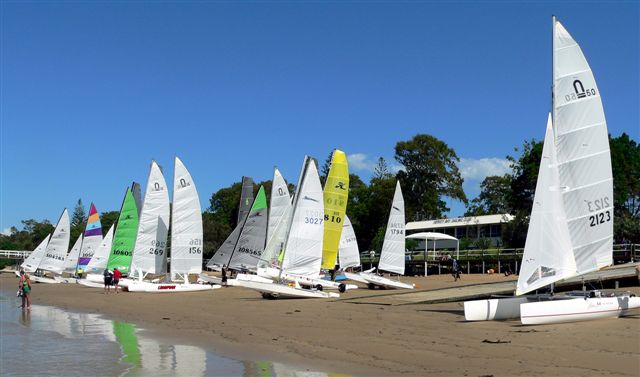 ---
The Hervey Bay Sailing Club is situated on a beautiful 7 km white sandy beach, facing North, in the delightful City of Hervey Bay, three and a half hours North of Brisbane.
It's protected by the magnificent Heritage listed Fraser Island, making for an excellent sailing venue, that has been utilised by the Club over the last 50 yrs.
These waters are also home to the famous "Bay to Bay Yacht Race", with the exception of 2020 due to COVID 19 has been held every year since 1981. The Bay to Bay will be into it's 44th year (43rd B2B) in 2024.
This race has attracted as many as 200 trailable yachts in the past, and promises to be a special event in the sailing calendar of all on the East Coast in 2024.
The Bay to Bay Yacht Race.
CLICK HERE to view the 2023 42nd Hervey Bay Boat Club Bay to Bay Race Results!
The Annual Hervey Bay Boat Club Bay to Bay Trailable Yacht Race sailed over the Queensland Labour Day long weekend is a two leg approximately 84km long two day Category 5 (limited rescue availability in daylight hours) race for eligible (NoR 4) monohull and multihull trailable yachts.
The Bay to Bay Yacht Race is through the pristine Queensland waters of the Tin Can Bay Inlet, the Wide Bay Harbour, the Great Sandy Strait and Hervey Bay from north of Snapper Creek Tin Can Inlet to east of the Urangan Boat Harbour Hervey Bay with an overnight stop in Garrys Anchorage, located between Fraser Island and Stewart Island.
You will sail in the company of a large fleet of trailable yachts through the largely remote, unspoilt and truly spectacular wilderness area of the Great Sandy Marine Park including the Great Sandy Strait Ramsar Wetland Area, the Fraser Island World Heritage Area and the Great Sandy National Park.
All of these areas provide critical habitat to the endangered resident and migratory loggerhead marine turtle, dugong and prolific bird life.
The race is Queensland's largest trailable yacht race and one of the three largest trailable yacht passage races in Australia.